About a year and a half ago, US Army vet and hardcore Dungeons & Dragons player Miguel Zavala begined what at the time must have sounded like an not effortless project. Working with his newly acquired hobby of 3D create and 3D printing, he decided that he was going to create and 3D print each monster in the legendary Dungeons & Dragons Monster Manual Sourcebook. That is approximately three hundred various 3D models, that include dragons, orcs, trolls and each weird, comical and downright ridiculous creature that the classic roleplaying game had to contribute. Now, after a ton of work and the approximately constant running of his Printrbot Simple, Zavala has only released the last of his models.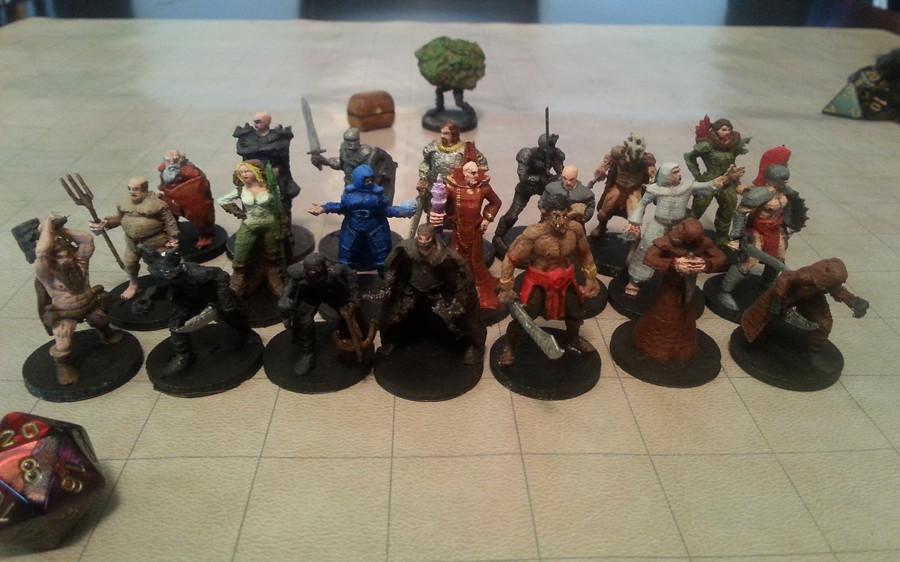 All of the NPCs of the Monster Manual Appendix B.
A few years ago a few significant, and at the time controversial, changes were created to the player mechanics of Dungeons & Dragons. The talked about RPG rules had always been a little complex, and it was frequently complex for players to fully know distances, scale and rates of movement. Many industrious DM's took to via graph paper to assist illustrate eachthing for their players, and while that was assistful it was yet a complex game process. Eventually the owner of the D&D IP, Wizards of the Coast, released one inch grid maps and pre-painted miniatures that may be utilized either for a basic tabletop miniature game, or utilized for the RPG to assist players advantageous visualize the action inside the game.
Guard
Bandit
Arch Mage
The miniatures were so talked about that when the game mechanics were recreateed, Wizards of the Coast in fact incorporated the miniatures into the game rules. Whilst it became simpler for players to know distances and scale, it ended up manufacturing it kind of complex to play the RPG without the grid maps and miniatures. Of course things got actually worse when Wizards of the Coast stopped making as many miniatures, choosing instead to focus on beginer sets and random booster packs, while letting many of the talked about and commonly utilized figures go out of print. Many DM's ended up turning to places like eBay only to get the basic mini's that they may require to in fact play the game properly.
Now, thanks to Zavala, there are other options for DM's looking to get the many out of the game rules. His project included creating 3D printable models of the entire Monster Manual, as well as the miscellaneous creatures of Appendix A and the Non-Player Characters (NPCs) of Appendix B. That is a astonishing resource for D&D Dungeon Masters, who can now put their players up against any creature that they can imagine. The last of his project, the NPCs, were only uploaded to Zavala's Shapeways store, that brings his project to an end. The minis are on the market on Shapeways with the approval of Wizards of the Coast thanks to their existing deal with Hasbro.
Mage
Acolyte
Assassin
All of Zavala's D&D figures were createed in Blender and and so 3D printed in PLA via his Printrbot Simple Metal. He suggests printing the figures with a 0.05 to 0.1 layer resolution, 100% infill and a ton of supports. He printed via a heated bed, so a few of the figures are most likely going to be a bit tricky to print. PLA is quite effortless to paint via standard acrylic modeling paints, but I may suggest that if you are planning on via them a lot that you donate the minis a really great sanding and use a black primer spray paint preceding you begin adding the details.
As for Zavala, he's now decided to move on to createing and 3D printing the Demon Princes, and perhaps actually recreateing his Chromatic dragons, so this is not the last that we've seen of him. You can see all of the monsters of the Monster Manual of A to Z here. You can see all of the creatures of the Monster Manual Appendix A here. You can see all of the NPCs of the Monster Manual Appendix B here (Make certain you store an eye out for the hilarious Spy mini!). And you can download the STL files, or have Shapeways 3D print the minis for you, via Zavala's Shapeways Store. This is awe-inspiring progress! Discuss additional in the 3D Printed Dungeons & Dragons forum over at 3DPB.com.
It is only a bush, I swear. No Spy here. Nope, only plant life.