Lite-On Integrates 3D Printing of Electronics into Mass Production – ENGINEERING.com
by • April 7, 2016 • No Comments
The 3D printing of individual components has created at a rapid rate, but the end game for the innovation is not just the additive making of end parts for use in our day to day lives but the 3D printing of functional objects. That can just be completed when the innovation is sufficiently evolved to 3D print additional than just plastic and metal parts and we see the widespread implementation of 3D printing dynamic materials, such as electronics.
Optomec, based out of Albuquerque, N.M., is one of the few companies with a platform capable of 3D printing electronics through the use of their proprietary Aerosol Jet innovation, and one of their customers, Lite-On Mobile Mechanical SBG, has just revealed the use of this one-of-a-kind printing process in the weight making of end parts.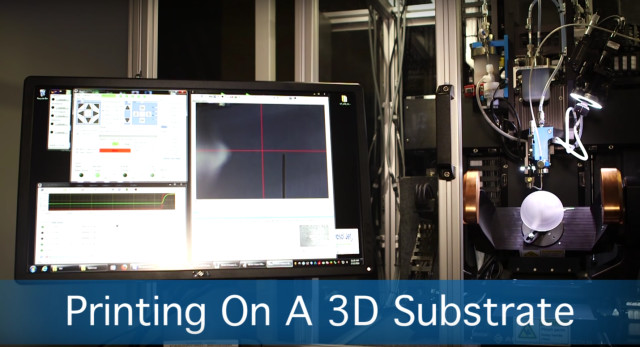 The Aerosol Jet 5X process is capable of 3D printing a variety of nanomaterials onto flat and 3D objects. (Image courtesy of Optomec/YouTube.)
With five-axis motion, the Aerosol Jet 5X process is specially engineered to spray nanomaterials, which include conductive inks, dielectrics, plastics and adhesives, onto a given substrate, which can be flat or nonplanar. The combination of the satisfactory level of more detail of the spray (about 10 microns) with the five-axis motion allows for for quite thin circuitry onto potentially complex-shaped objects. Because the process has an open architecture which is pretty customizable for the customer, it can be tailored for a given application. In the case of Lite-On, all of this adds up to 3D printing antennas and other electronics onto a variety of devices.
The story of Lite-On's adoption of Optomec innovation for weight production is much like to most companies which adopt 3D printing in-house. The Taiwanese company began via their Aerosol Jet processs for prototyping purposes, creating communication, very own care and car products for their original equipment making customers. After seeing the power of 3D printing for prototyping, they understood which it may be utilized for weight making, developing a process they call 3D Direct Print (3DP).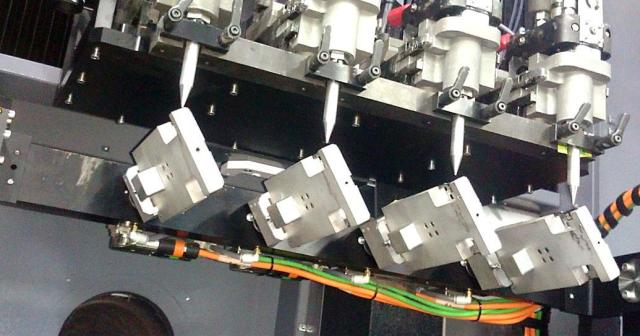 The Aerosol Jet 5X configured to host multiple platforms for 3D printing electronics onto multiple electronic devices.(Image courtesy of Optomec.)
They now have a number of production processs running 24/7 in Guangzhou, China, where they 3D print electronics onto millions of consumer electronics. Their production operation has configured the machines so which a series of Aerosol Jet print modules are utilized across additional than one five-axis motion platform where smartphone and tablet form-factors are sprayed with electronic materials.According to a new news release, it is estimated which the company can perform this process on millions of products per year. Without the require for plating or specialty resins, they've seen a drop in costs and a additional streamlined logistical process.
Henrik Johansson, senior manager of innovation development antennas at Lite-On, elaborated on their use of the innovation: "With the flexibility provided by Aerosol Jet innovation, our 3DP processs can print sensors, antennas and other functional electronics onto plastic components and covers, as well as metal die-cast insert-molded polymer frames, and actually onto glass panels and ceramic materials. We see Aerosol Jet as a strategic component of our 3DP solution, which has enabled us to expand into new markets."
Optomec's innovation is one of a kind, as is Lite-On's use of it for weight production. As these processs are implemented at a wider scale, we may manufacture a few tiny steps nearer to reaching the dream of, one day, 3D printing fully functional objects which work right off of the print bed.
About the Author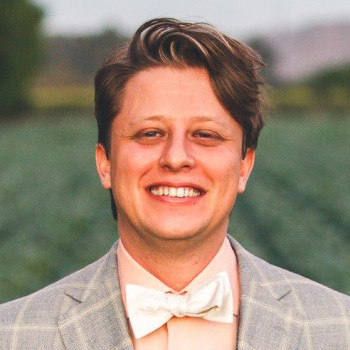 Michael Molitch-Hou is a 3D printing specialist and the founder of The Reality™ Institute, a service institute dedicated to determining what's real and what's not so which you don't have to. He is a graduate of the MFA significant studies and writing program at CalArts, and a firm advocate of world peace.